Welcome to Park View Pilates
The premier Pilates company in Surrey and South West London, covering Sutton, Purley, Wallington, Banstead and the surrounding areas.
We specialise in exercise for health and wellbeing. To us, fitness isn't just about looking better in your clothes – it's about strengthening your body to improve your health and daily life.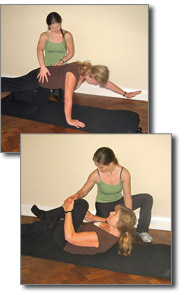 Pilates is recommended by many medical professionals including physiotherapists, osteopaths and chiropractors to help rehabilitate injuries and reduce back pain. Whether it's rectifying muscle imbalances, improving your posture, increasing your mobility and flexibility, strengthening your back, rebuilding your pelvic floor after pregnancy or becoming more aware of how your body moves, we can help.
Regular exercise is vital for our continued health. Not only does it help with physical wellbeing, it improves mental wellbeing, too.
Our friendly, relaxed Pilates classes are mixed ability and suitable for all levels of fitness and Pilates experience, including complete beginners. We have classes in Sutton, Wallington, Purley, Banstead and Epsom Downs. We also offer 1-2-1 sessions at our Sutton studio and 1-2-1 sessions and private group classes at your home or workplace.
Please check out our other pages for details on specific services. If you have any questions about joining our classes or arranging private sessions/classes please call the Park View Pilates studio on 020 8274 1572 or email lorraine@parkviewpilates.co.uk
"In ten sessions you will feel the difference. In 20 you will see the difference. And in 30 you'll have a whole new body."

– Joseph Pilates